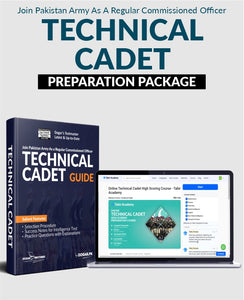 Technical Cadet Guide with Online Learning Module (TCC) is available here. This Book also includes Online Learning Module. Home delivery is available. Place your order now. Book will be sent to you by courier.
Technical Cadet Guide with Tabir Academy Online Learning Module Details:
Salient Features:
Online Learning Module
Detail Notes
Practice Exercises with Explanations
A complete Preparation Guide to Achieve Higher Marks
To the Point Study Material
Full syllabus coverage
Solution for Better learning
Everything you want to know about TCC test.
Technical Cadet Course Test for Commissioned Officer. It is based on MCQs type questions, which includes Intelligence, Verbal, Non-verbal and Academic Test.
TABIR ACADEMY
 

ONLINE PREPARATION COURSE FEATURES:
Complete Preparation
30 Days Preparation Challenge
Top Quality MCQs Varying Difficult Levels
Learning Box: Explaining Complex Concepts