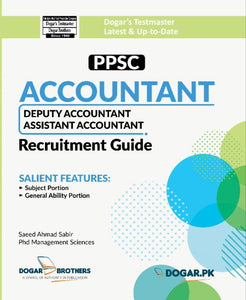 PPSC Accountant & Deputy Accountant Recruitment Guide by Dogar Brothers is available for instant delivery. This is a latest book for PPSC Accountant Job test with up to date material to score high in your test. Order your copy today!
Salient Features:
Subject Portion
General Ability Portion
What is the test pattern for PPSC Accountant and Deputy Accountant Vacancy test?
It is a 90 minute test comprising of MCQs divided into the following sections
i) M.Com (30%)
ii) M.B.A (Finance) (30%)
iii) Statements on Auditing Standards (SAS) (20%)
iv)Questions from General Knowledge including (20%) Islamic Studies (Ethics for Non-Muslim candidates)/History of Pakistan.
How will this book help you in preparation for PPSC Accountant Test?
This guidebook contains separate sections for the first three portions of the MCQs test, it will help in revising your accounting, finance and auditing concepts through notes and practice questions. Finally, a special general ability portion will help you in that extra preparation for General Knowledge questions through facts so that you are fully prepared for all sections of your One Paper MCQs test for PPSC.