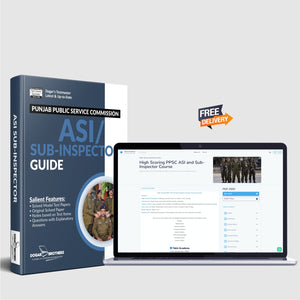 The PPSC ASI / Sub-Inspector with Online learning module of https://www.tabir.pk/ is available at Dogar Books. The package will help applicants to prepare with guidebook and do online preparation after having the access through voucher code. We will be delivering the package through courier on free home delivery.
Assistant Sub-Inspector Preparation on Tabir
The package of PPSC ASI / Sub-Inspector will include:
A guidebook which will have solved model test papers, original solved paper, notes based on test Items and questions with explanatory answers
An online learning module on Tabir Academy which will help candidates to prepare online.