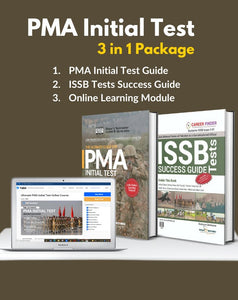 PMA Long Course 152 & 153 Package 3 in 1 (PMA Initial Test Ultimate Guide + ISSB Tests Guide + Online Preparation Course of Tabir Academy) is available for instant delivery. This special package will help with all the material you need to clear your PMA exam and ISSB tests. Free Cash on delivery available.
Are you Eligible for PMA Long Course 152 & 153 Initial test (PMA Eligibility Criteria)?
The following requirements have to be fulfilled in order to be eligible for PMA to join Pak Army:
Nationality: Citizens of Pakistan and domicile holders of Azad Kashmir / Gilgit-Baltistan. Upon final selection candidates with dual nationality will  have to surrender nationalities other than Pakistan.
Gender: Male
Marital Status: Unmarried (Married serving personnel of the Armed Forces over 20 years of age are eligible).
Age as on 1 May 2020
Education
Age
Age Relaxation
1)

Intermediate or Equivalent

17-22 Years

Relaxable for three months both in upper and lower age limits

2)

Graduates (2 years of graduation and Serving PN / PAF Personnel)

17-23 Years

Relaxable for three months both in upper and lower age limits

3)

Graduates with 4 years graduation program (BS / BA(Hon) / BBA / BPA)

17-24 Years

No age relaxation

4)

Serving Army Soldiers

17-25 Years

No age relaxation
Minimum Height: 5'- 4" (162.5 cm)
Training Period at PMA:  2 Years
Educational Qualification
Minimum 60% marks in FA/FSc and equivalent. Candidates who secure 60% marks or above in BA / BSc, BA / BSc (hons) and BBA / BPA, with 50% marks in FA / FSc are eligible for PMA Long Course.

Relaxation of Marks - FA / FSc:-

55% marks for the candidates from specified areas with domicile. Areas incl Balolchistan, FATA, Gilgit-Baltistan, District

Neelum Azad Jammu Kashrnir, District Kohistan, Chitral, Dir, Tehsil Bala Kot (Kaghan, Naran) of District Mansehra in KPK, Tharparker and Tehsil  Umer  Kot  in Sindh, District  Rajanpur,  Area of Cholistan Desert, Drawar Fort, Salamsar, Mojgarh and  Dingarh of Punjab.Besides being domicile holder, the  candidates must have been actually studying in the same areas.

Serving Army Soldiers.

50% marks in FA/FSc and equivalent.

Hope Certificate.

Candidates who have passed Part-I of Intermediate Examination with minimum 60% marks and appeared in Part II / Final Examination can also apply on "Hope Certificate" by the Head of the institutions.

Verification of Marksheet / Certificate:

Candidates not issued with certificates or in possession of duplicate/revised mark sheets/certificates of Matric / Intermediate / BA / BSc must

get a Verification Certificate signed by Secretary/Controller Examination of concerned Board/University.




'A' level candidates applying in Pakistan with aggregate 60% marks are eligible without seeking equivalence certificate as calculated by IBCC. However, all candidates who have passed 'A' level  and equivalent examination from abroad are required to submit equivalence certificates issued by IBCC.
What is the syllabus for the PMA initial test? 
There are two broad sections in the PMA initial test. PMA test syllabus is as follows:
PMA Intelligence Test
Verbal Intelligence Test (85 - 100 Questions)

Non-Verbal Intelligence Test (85 - 100 Questions)
 PMA Academic Test (40 Questions)
Academic Test comprises of the following topics:
English

Mathematics

Pakistan Studies

Islamiat

General Knowledge
 How to Prepare for PMA long course (PMA initial test)? 
PMA initial test preparation can be a difficult task if not dealt with smartly. For this purpose, there are certain ways to ensure high scoring preparation for the PMA inital test. These are as follows:
Solve maximum questions for PMA MCQ exam preparation for all sections

Attempt as many PMA initial test practice questions as possible, with a time management system

Use the best resources available to provide smart and effective preparation
To score well in your PMA Initial test, make sure you get help from the following resources:
Online Preparation for PMA long course initial test on Tabir Academy for smart preparation and concept-based learning
How to Prepare for PMA Long Course Online?
Tabir.pk – A project by Dogar.pk brings you the best online preparation module for MCAT AKU Entry Test Preparation. If you want to master all your weak concepts then this is the best choice to improve your weak concepts. Get your concepts right and learn smartly as you master through all levels.
Salient Features:
Multiple Levels of Conceptual Progress – Complete all Levels to prepare well for the exam.

Learning box to improve your weak concepts.

All you need to know for the exam.

Real-time Progress
You can check the course at this link: Ultimate PMA Initial Test Online Course