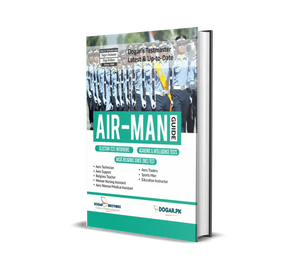 PAF Super Air Man Guide is now available at Dogar brothers. Home delivery is available. Book will be sent you by courier. You just have to pay cash on delivery.
PAF Super Air Man Guide Book:
PAF Super Air Man Silent Features:
Air Man
Aero Technician
Aero Support
Selection Tests & Interviews
Academic & Intelligence Tests
Subject:
Math
Physics
English
General knowledge
Intelligence Tests
What is the process of Air man Training in PAF?
After induction the training of an Airman starts from military training, trade training, field training, refresher training and goes up to promotion filters. The environment at training institutions inculcates confidence and self-esteem in the trainees. At present, PAF conducts airmen training in two phases.
Dogar Brothers provide the best resources for your good. Just consult a Book of Dogar Brothers to get selected for your exams. Our mission is "Contributing to the success of the widest possible audience through the availability of learning resources at an affordable price".