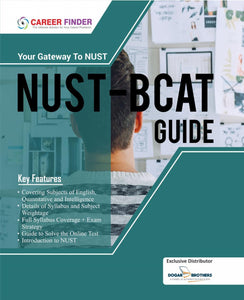 NUST-BCAT Guide by  Career Finder is available now at Dogar Brothers. NUST-BCAT GUIDE Book helps you provide the revision of your concepts and NUST-BCAT Exam Solved Papers will help you assess your readiness to take NET.  Place your order now. Book will be sent to you by courier. Pay cash on delivery.
Salient Features:
Covering Subject of English, Quantitative and intelligence
Details of Syllabus and subject weightage
Full syllabus coverage
Exam strategy
Guide to achieve higher marks
Guide to solve the online test
Introduction to NET
Dogar Brothers provide the best resources for your good. Just consult a Book of Dogar Brothers to get selected for your exams. Our mission is "Contributing to the success of the widest possible audience through the availability of learning resources at the affordable price".