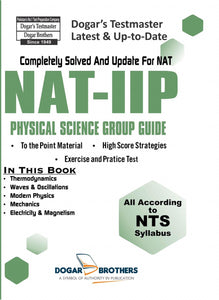 NAT IIP Complete Guide-NTS by Dogar Brothers is available here. This guidebook is specifically designed to provide to the point comprehensive study material and exercises for NTS NAT physical science exam. Order now book will be sent you by courier cash on delivery.
NAT IIP Description:
Key Feature of NAT IIP :
Verbal Reasoning
Analytical Reasoning
Quantitative Reasoning
Thermo-Dynamics
Waves & Oscillations
Modern Physics
Mechanics
Electricity & Magnetism
To the point Study Stuff
Effective Strategies to have high score in the test
Fully Qualified practice exercise and practice test
NAT- IIP Contents:
NAT sections and question types
The types of question on the NAT
Schedule of NAT
NAT basic statistics
NAT scoring
Register for the NAT
How NAT is used by the institutions
Question commonly asked about the NAT
Test day instructions for NAT
How to fill the answer sheet
NAT preparation
Test day considerations
General instructions
The day before the test
Reading Comprehension
Practice exercise
Analogy
Antonyms
Synonyms
Dogar Brothers provide the best resources for your good. Just consult a Book of Dogar Brothers to get selected for your exams. Our mission is "Contributing to the success of the widest possible audience through the availability of learning resources at an affordable price".