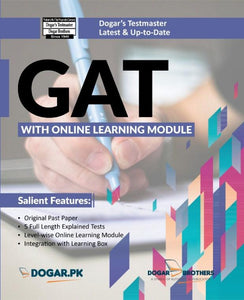 NTS GAT Guide With Online Learning Module by Dogar books is available here. Place your order now. Home delivery is available. Book will be sent to you by courier. You just have to pay cash on delivery. GAT Online Preparation Module by Tabir Academy
Salient Features:
Original Past Papers
5 Full Length Explained Test
Level-wise Online Learning Module
Integration with Learning Box
NTS GAT Online Learning Module Features:
NTS GAT Online Learning Module has the following features, which cover all the information you need for the GAT test:
Eligibility Criteria
Test Information
GAT Test Pattern
GAT Practice Test
Success Box: Success Box has everything you need to achieve for GAT Entry Test.
Challenges: Complete all the challenges in a success box to prepare well for the GAT Entry test.
Learning Box: In the Learning Box all your mistakes will be addressed through intellectual Concept Building so that in future you do not make the same mistakes again.
Real-Time Progress: Completing all the levels means you are ready for the actual test.
What is NTS GAT test?
GAT stands for Graduate Assessment Test, it is administered by National Testing service as an entrance test for M.S/M. Phil admissions and Scholarships.