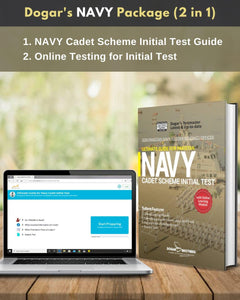 Navy Cadet Scheme Initial Test Guide + Online Testing (2 in 1) Package By Dogar Brothers is available here. Place your order now. Home delivery is available. Navy Commission Book will be sent you by courier. You just have to pay cash on delivery.
Navy Cadet Initial Test Guide + Online Testing (2 in 1)Package :
Salient Features:
Everything you want to know about NAVY test.
Success notes for an intelligence test.
Practice Tests.
What is PN Cadet in NAVY?
A PN Cadet is a young trainee who is hired to be trained for a higher rank in Navy in the future.
Are you Eligible for Pakistan Navy Cadet Initial Test?
HSSC qualified male unmarried citizen of Pakistan between the age of 16.5 to 21 years are eligible to apply for PN Cadet scheme. You can apply after completing your F.Sc/Intermediate education.Candidates who pass the initial test are then selected to give the ISSB test.
How to use Navy Online Testing Module?
Go to link:  YouTube
Dogar Brothers provide the best resources for your good. Just consult a Book of Dogar Brothers to get selected for your exams. Our mission is "Contributing to the success of the widest possible audience through the availability of learning resources at an affordable price".