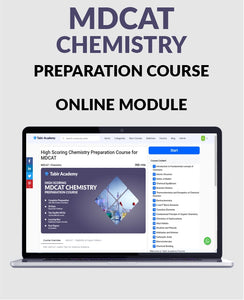 MDCAT Chemistry Preparation Course is available at Dogar Books with the online learning module and Lectures of Tabir Academy. This package will help students prepare and revise effectively for the Medical & Dental College Admission Test. We are offering free home delivery nationwide so order yours now!
SALIENT FEATURES MDCAT Chemistry Preparation Course WITH TABIR ONLINE LEARNING MODULE)
According to MDCAT Syllabus 

Conceptual MCQs
Explanations of selected questions
Revision Notes
Easy, Medium & Hard Difficult level questions
Including Logical Reasoning 
WHAT IS THE MDCAT SYLLABUS?
According to PMC, the MDCAT Syllabus is as follows:
Biology
Chemistry
Physics
English
Logical Reasoning
Visit the Following link for MDCAT Chemistry Complete Preparation Course:

https://tabiracademy.com/course/chemistry-key-points-mdcat/