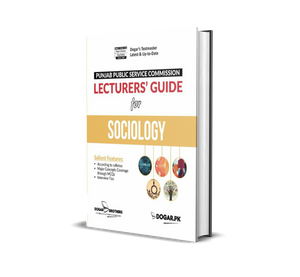 Lecturer Sociology guide is available at Dogar Books for instant free home delivery through courier. This is a comprehensive book covering major concepts clarifying through MCQs. Order yours now! Free home delivery nationwide.
Features of Sociology Lecturer Guide PPSC:
According To Syllabus
Coverage of major concepts through MCQs
Interview Tips 
Original Paper
What is the selection criteria for a Lecturer?
Dependent upon candidates' academic record
Performance in written test
Demonstrable Clarity of major concepts
Good communication Skills