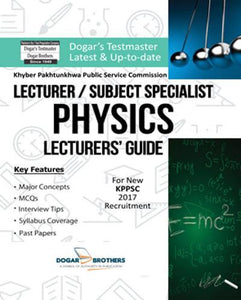 Lecturers Guide Physics KPPSC by Dogar Brothers is available here. Home delivery is available. Order now. Book will be sent you by courier. Pay cash on delivery.
Lecturers Guide Physics KPPSC by Dogar Brothers Description:
Salient Features of Lecturers Guide Physics – KPPSC:
All according to new KPPSC 2017 Syllabus
Major Concepts
To the point Study Material
MCQs
Syllabus Coverage
Model Paper
Interview Tips
How to Be a Lecturer through KPPSC Lecturer Job test?
In order to become a lecturer, you will have to clear the lecturer subject test conducted by FPSC, KPPSC, or any relevant authority. The test is a reflection of candidates knowledge and comprehension of the subject. After clearing the written test, the provincial service commission is responsible for organizing the recruiting process including the test and interview.
What is the Selection Criteria for KPPSC Lecturer Jobs?
The selection of a lecturer depends on his/her academic record, performance in written test, and demonstration of a clear conceptual understanding of the subject and good communication skills. The candidates who meet the eligibility criteria are called for Written Test on the scheduled date and center.  The candidates who pass the Written Test are called for an Interview.
Dogar Brothers provide the best resources for your good. Just consult a Book of Dogar Brothers to get selected for your exams. Our mission is "Contributing to the success of the widest possible audience through the availability of learning resources at an affordable price".