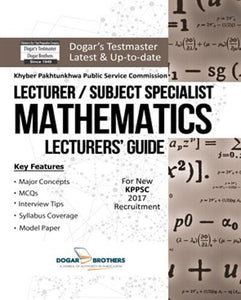 Lecturer Mathematics KPPSC Guide by Dogar Brothers is available here. Use this book for complete preparation of KPPSC test. Home delivery is available. Order now. Book will be sent you by courier. Pay cash on delivery.
Lecturer / Subject Specialist Mathematics KPPSC  Guide Description:
Salient Features of Lecturer / Subject Specialist Guide Mathematics – KPPSC :
All according to new KPPSC latest Syllabus
Major Concepts
To the point Study Material
MCQs
KPPSC Lecturer Syllabus Coverage
Model Paper according to KPPSC lecturer test pattern
Interview Tips
How to Be a Mathematics Lecturer through KPPSC?
Lectureship is a milestone in the life of young college teachers who pursue their career concentrating on their subject. Lectureship is a dream and to translate this dream into reality, the young graduates are supposed to demonstrate clarity and understanding of the essential concepts of their subjects. The test is a reflection of the evolution of the chosen subject and the candidate attempts this test to prove his proper comprehension in the subject. The provincial service commission is responsible for organizing the recruiting process including the test and interview.
What is the KPPSC lecturer test pattern?
The KPPSC Mathematics Lecturer test pattern is such that there are 80% of questions based on subject qualification that is mathematics and 20% are based on general knowledge covering various areas such as English, Islamiyat, Current Affairs. The test is usually 90 minutes long and is entirely based on MCQs.
Dogar Brothers provide the best resources for your good. Just consult a Book of Dogar Brothers to get selected for your exams. Our mission is "Contributing to the success of the widest possible audience through the availability of learning resources at an affordable price".