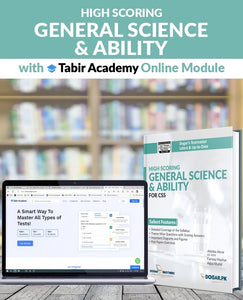 High Scoring CSS General Science & Ability Guide Package (Book + Tabir Academy Module) is available for instant delivery. This book covers CSS syllabus for General Science and Ability compulsory subject in a comprehensive way. Order your copy now.
SALIENT FEATURES:
Detailed Coverage of CSS Syllabus 


Theme-wise Questions with Scoring Answers

Important Diagrams and Figures required for CSS General Science and Ability

FPSC CSS Past Paper-based Exercises
WHAT NOTES MAKING TECHNIQUE AND SOURCES DO YOU THINK IS MOST EFFECTIVE FOR SCORING WELL IN CSS?
Note making is a very essential part of CSS preparation. You should be very particular about your notes. It is important that you make notes everyday covering the topics that you've read up on and you should move chronologically in this process. You should have a separate notebook for every subject. Your notes should be a reflection of the way you'll be attempting the exam. Let's say in Pakistan Affairs, you're making notes on the War of Independence. Your notes on one topic should be 1 to 2 pages long at most. Keep it as short as possible while at the same time making sure that you have covered all the important points. Structure your notes in a way that reflects how you'll be answering the question.In the last 10-15 days, when you're revising all your subjects, then this proper and organized note making is definitely going to help you.