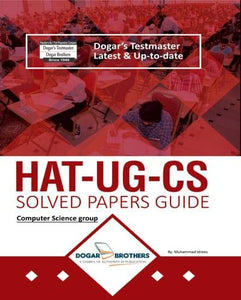 HAT-UG-CS Solved Paper Guide by Dogar Brothers is available here. Home delivery is available. Book will be sent you by courier. You just have to pay cash on delivery.
HAT-UG-CS Solved Paper Guide Description:
This book is especially for:
Salient Features: 
HAT advertisement
Frequently Asked Questions (faqs)
Step by Step Guide to apply online
HAT paper distribution
Solved Papers
What is HAT test?
HAT stands for Higher Education Aptitude test which is conducted by HEC for admissions and scholarships for different Masters and M.Phil degree programs. Several reputed universities recognize HAT test for admission and consider it an admission requirement.
Dogar Brothers provide the best resources for your good. Just consult a Book of Dogar Brothers to get selected for your exams. Our mission is "Contributing to the success of the widest possible audience through the availability of learning resources at an affordable price".