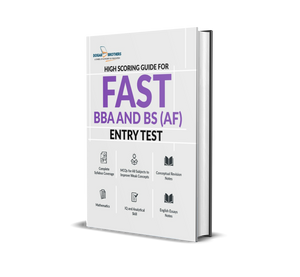 FAST BBA and BS (AF) Entry Test Guide by Dogar Books. Order now and avail yourself of free home delivery nationwide.
FAST BBA and BS (AF) Entry Test Guide:
Salient Features:
Complete Syllabus Coverage
MCQs for All Subjects to improve weak Concepts 
Conceptual Revision Notes
Mathematics
IQ and Analytical Skills
English Essays Notes
Following is the weightage assigned to different subjects in the entry test for BS & BBA programs at FAST:
- English: 10%
- Essay Writing 15%
- Analytical Skills & IQ: 25% 
- Basic Maths: 50%
Negative Marking: Yes
Calculators: Not allowed
FAST NUCES- BS (CS/Engineering) High Scoring Online Preparation Course:
https://tabiracademy.com/course/fast-nuces-bs-cs-engineering-course/
Note: The book is printing phase because of the updated material and it will be delivered in 6-8 working days.