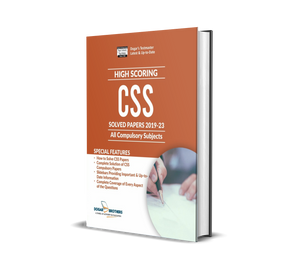 CSS Solved Past Papers 2019-2023 is available for instant delivery. Practice for your CSS Compulsory subject past papers with solved answers written by qualifiers and experts. Order now! Free nationwide delivery is available.
Salient Features:
Updated Information: CSS Solved Papers book gives you the most up-to-date information on the topics discussed in the questions. This book will save your time by providing you with the page update and usually, you do not need to search elsewhere
Introduction to CSS: CSS Solved Papers Guide 2023 gives you a comprehensive view of what CSS is and tells you steps involve in the whole process of selection
CSS Exams Strategies 2023: This book provides you with strategies that can help you before the examination, during the examination and after the examination.
How to Attempt  & Solve CSS Question Papers 2023: This book guides you in detail about Writing Comprehension, Précis Writing, and Writing a Good Essay
How to write Better English in CSS Exam 2023: You know 90% of the students attempting CSS  fail in English or their inability to express their ideas in English. CSS 2022 book gives you ample tips to write correct and better English.
Sidebars: Sidebars will help you in providing up-to-date, additional and interesting information, definitions, explanations or references. These bars ensure that you can have the best output of your time by providing you on the page additional information or selected references. We have included sidebars usually in boxes with different headings.
What are the Occupational Groups and Services in Civil Services of Pakistan
There are different Occupational Groups and Services are included in Civil Services of Pakistan which qualifiers of FPSC CSS examination. The competitive examination shall be conducted by the Commission in respect of the Occupational Groups and Services consisting of :
Commerce and Trade Group;

Foreign Service of Pakistan;

Information Group;

Inland Revenue Service;

Military Lands and Cantonments Group;

Office Management Group;

Pakistan Administrative Service;

Pakistan Audit and Accounts Service;

Pakistan Customs Service;

Police Service of Pakistan;

Postal Group; and

Railways (Commercial and Transportation) Group.
TABLE OF CONTENTS

INTRODUCTION
❖ Why Solved Past Papers are Important? vi
SOLVED PAST PAPERS 2019
❖ CSS Solved Paper English Essay 1
❖ CSS Solved Paper English Précis and composition 12
❖ CSS Solved Paper General Science & Ability 19
❖ CSS Solved Paper Current Affairs 34
❖ CSS Solved Paper Pakistan Affairs 48
❖ CSS Solved Paper Islamic Studies 65

SOLVED PAST PAPERS 2020
❖ CSS Solved Paper English Essay 84
❖ CSS Solved Paper English Précis and composition 102
❖ CSS Solved Paper General Science & Ability 107
❖ CSS Solved Paper Current Affairs 135
❖ CSS Solved Paper Pakistan Affairs 159
❖ CSS Solved Paper Islamic Studies 178

SOLVED PAST PAPERS 2021
❖ CSS Solved Paper English Essay 196
❖ CSS Solved Paper English Précis and composition 210
❖ CSS Solved Paper General Science & Ability 215
❖ CSS Solved Paper Current Affairs 228
❖ CSS Solved Paper Pakistan Affairs 238
❖ CSS Solved Paper Islamic Studies 250

SOLVED PAST PAPERS 2022
❖ CSS Solved Paper English Essay 260
❖ CSS Solved Paper English Précis and composition 270
❖ CSS Solved Paper General Science & Ability 276
❖ CSS Solved Paper Current Affairs 300
❖ CSS Solved Paper Pakistan Affairs 308
❖ CSS Solved Paper Islamic Studies 316