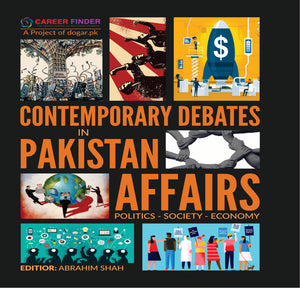 Contemporary Debates in CSS Pakistan Affairs 2023 Preparation by Dogar Books is a special book designed to cover major themes of FPSC CSS syllabus for Pakistan Affairs. This book is available for instant delivery. Order your copy now!
Salient Features:
Comprehensive Articles about popular issues in Pakistan Affairs

Facts and figures with references for each topic

Specially written by a team of leading academics and CSS toppers
How will this book help in preparing for FPSC CSS Pakistan Affairs?
This book is a comprehensive resource for information on popular topics in CSS Pakistan Affairs topics particularly for post independence era.It is written by leading academics and CSS high scorers to help you go through all important articles and information required for CSS Current Affairs preparation. . It focuses on building strong analysis which aims to help students answer the question critically as required in CSS Exams.
What should be the standard length of CSS answers considering time management?
People often say that the answers should be very long. In my opinion, this is not the case. It is in fact your writing style, analysis and structure that is more important than your length. The adequate length for an answer is 6-7 sides of pages (3 and a half pages). Length of answers is not important, for some answers, you might write 5-6 sides of pages, for others you might end up writing 8-9 sides of pages. However, you should try to not give answers shorter than 5-6 sides of pages and focus on headings. In addition to this, your answers should be measured so that you don't end up having answers to some questions as short as 3 sides of pages while others covering 12 sides of pages. All answers should be more or less the same length so that you can manage your time. Try to give 30-35 minutes to each answer in the exam hall.