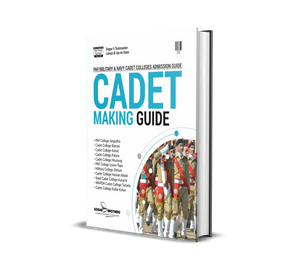 Dogar Brothers offer you Cadet Guide by Dogar Brothers (For Class 8th) for your admission to the top Cadet Colleges of Pakistan. The book contains topics from General Science, Mathematics, English, and Urdu subjective and objective text with past papers of cadet colleges. The information about Cadet College will be surely helpful to you. It will be a significant tool for preparing yourself for the entrance exam.
Cadet Guide by Dogar Brothers (For Class 8th):
PAF College Sargodha
Cadet College Batrasi
Cadet College Kohat
Cadet College Pataro
Cadet College Mustung
PAF College Lower Topa
Military College Jhelum
Cadet College Hassan Abdal
Steel Cadet College Karachi
WAPDA Cadet College Tarbela
Cadet College Kallar Kahar
How to get admission in Cadet College?
In army cadet college you can apply for the admission in CLASS 4,5,6,7,8,9th grade. If your father served in armed services then your fees in the cadet college will be way less then those of the private students who have no one served in the army. If you are a son of an army personal then getting admission to Cadet college should be your first choice.
Dogar Brothers provide the best resources for your good. Just consult a Book of Dogar Brothers to get selected for your exams. Our mission is "Contributing to the success of the widest possible audience through the availability of learning resources at the affordable price".