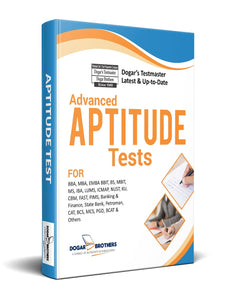 Advanced Aptitude Tests by Dogar Brothers is available here. This book will help you in preparation for multiple aptitude tests for Post Graduate Degree Tests and even job vacancies. Free cash on delivery is available. 
Advanced Aptitude Tests by Dogar Brothers Description:
Especially For:
BBA, MBA, EMBA,
BBIT, IBA, LUMS
ICMAP, NUST
KU, CBM, PIMS
Banking And Finance State Bank
Petroman
CAT, BCS
PGD
MCS & Others
Dogar Brothers provide the best resources for your smart preparation. Just consult a Book of Dogar Brothers to get selected for your exams. Our mission is "Contributing to the success of the widest possible audience through the availability of learning resources at the affordable price".