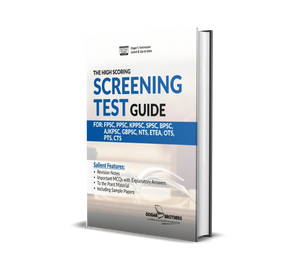 High Scoring Screening Test Guide by Dogar Brothers is available here for instant delivery. Prepare for your One paper MCQs and Screening tests for FPSC, PPSC, SPSC and more with comprehensive revision material and solved past papers. Order your copy today and improve your chances of clearing the screening test.
Salient Features:
Revision Notes
Important MCQs with Explanatory Answers
To the Point Material
Including Sample Papers
What is the Paper pattern for FPSC papers and similar one paper mcqs tests?
The following pattern is followed in FPSC papers and similar tests, prepare for your FPSC, PPSC, NTS and other One Paper MCQs Tests according to the following criteria:
Subjects
Marks
PART I
English
20 Marks
PART II
Basic Arithmetic
20 Marks
Pakistan Studies
20 Marks
Current Affairs(International and Domestic)
15 Marks
Islamic Studies
10 Marks
Everyday Science