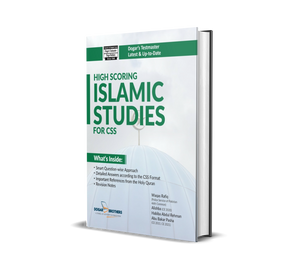 FPSC CSS Islamic Studies Guide by Dogar Brothers is available for instant delivery. This book covers entire CSS syllabus for Islamic Studies compulsory exam in a comprehensive way. 
Salient Features of FPSC CSS Islamic Studies Guide:

Smart Question wise approach

Detailed Answers according to CSS format

References from the Holy Quran
How do I score well in CSS Exams?
Exam preparation can be divided into several phases:
Identifying the topics to prepare based on syllabus and past papers

Making a study schedule based on the topic list for better planning

Making comprehensive notes (electronic or hand-written) to cover the selected topics and making one-pagers in the revision phase

Practicing MCQ past papers as it covers 220 marks out of the total 1200

Appearing for mock exams in a real-time test environment to evaluate progress

Working on the weaknesses especially paper presentation

Allocating equal time to ALL questions in the paper. Cannot stress this fact enough.
How to attempt questions in CSS Islamic Studies examination?
Use references from the Holy Quran. Also, write a few references in Arabic, with their respective translations.

Avoid quoting any controversial reference.

Avoid quoting any incident you are not sure of. 

Use Ahadis to complement your answers.

Make sure all references are relevant to the topic being discussed.