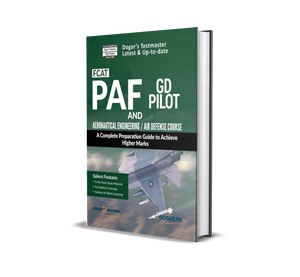 FCAT PAF GD Pilot and Aeronautical Engineering / Air Defence Course by Dogar Brothers (A complete Preparation Guide to Achieve High Scores) is available here. This book covers the entire PAF test syllabus in a comprehensive way. Home delivery is available. Order your copy today! 
Salient Features:
To the point study material
Full Syllabus Coverage
 Solution for Better Learning
What is Air Defence Course in PAF?
Air Defence Training school is located in Risalpur, it conducts basic Air Defence Weapon Controllers course for cadets and officers of PAF and other friendly Air Forces. The total duration is 24 weeks with a frequency of two courses per year. Air Defence Training school conducts the Basic and other courses on Air Defence. The school carries out two basic Air Defence courses per year for PAF aviation cadets and conducts other Air Defence courses as and when directed by Air Headquarters and also conducts training courses for foreign students.